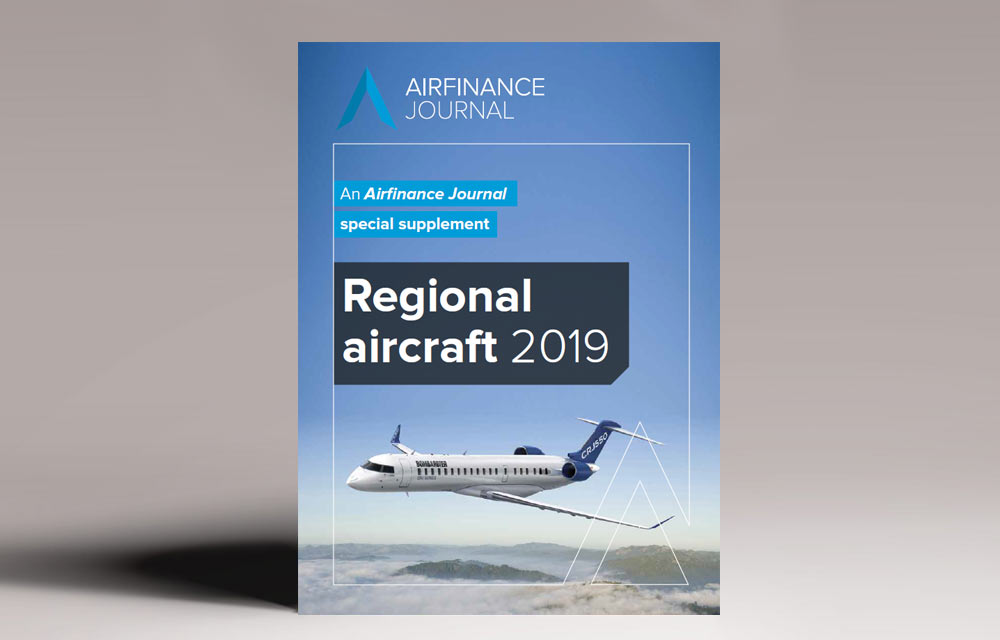 CRJ compared to E1/E2
Regional aircraft lessor, TrueNoord's chief executive officer Anne-Bart Tieleman, speaks to Jack Dutton about the CRJ programme and why Embraer is still selling loads of E1s.
Coming to market with a new aircraft, the CRJ550, at the start of February was a smart move from Bombardier, according to the chief executive officer of regional aircraft lessor TrueNoord.
In an interview with Airfinance Journal, Anne-Bart Tieleman says: "It's clearly a very niche product facilitating the US market, but I think from Bombardier's perspective, it's quite smart. They've created a new product on an existing platform so it won't be a high capital cost investment for them and they still have a new product to offer."
The Canadian manufacturer launched the product, which will have 50 seats in three classes, with US carrier United Airlines, committing to 50 units.
Tieleman says Bombardier may get more appetite from other US airlines because it is "very scope clause-minded".
He adds that TrueNoord would consider the aircraft in the future, but will not until there is more technical information available, such as costs and the secondary market footprint for the aircraft.
"It works in the US, but does it work somewhere else? I don't know. That is something for Bombardier to explain," he adds.
Bombardier says there is a market for the CRJ550 of more than 700 aircraft, and Tieleman thinks this is a realistic forecast.
"You'd be surprised if you see how many CRJ200s and Embraer ERJ135s and ERJ145s still fly, especially in the US. It sounds like a lot of aircraft but I guess they've done their homework, so it doesn't surprise me." He adds this is also the case with the Airbus A319, of which many are flying in the US.
"Look how many A319s fly in the US and these will be candidates to be replaced with A220s. I think there's something like 1,400 or 1,500 A319s with US airlines. The 700 figure doesn't sound very exaggerated."
Importance of CRJ
Tieleman is a champion of the CRJ family, but he does not think that Bombardier's recent sales of the Q400 programme to Longview Aviation and the CSeries programme to Airbus will breathe a new
lease of life into the CRJ. He has already been impressed with the Canadian manufacturer's efforts at selling the Q400s and CRJs since it sold the CSeries.
"I think the Q400s are out but from Bombardier's perspective, the CRJ product is quite important. It's built in the same factory that creates the business aircraft. Getting rid of that will only jeopardise production of airframes in this facility where in the end also the business jets are being built. Strategically, it would surprise me if Bombardier sells the CRJ. I don't think they will do that; they'll keep it and milk it until the product is really old."
Some of Bombardier's larger business jets have very similar airframes to the CRJ, meaning that the original equipment manufacturer can produce the CRJ on the cheap.
E1 versus E2
When it comes to the CRJ900's main competitor, some of the smaller aircraft in the Embraer E2, Tieleman is slightly sceptical, because E1 orders still show strong momentum. Despite this, Tieleman is interested in acquiring the aircraft to help grow TrueNoord's portfolio. The lessor has 20 E1s out of 31 aircraft in its fleet, according to Airfinance Journal's Fleet Tracker.
"It wouldn't surprise if we see more E1 orders this year," he says. "In that respect, you could almost argue that the E2 has come too early to market because there's still a strong demand for E1 products, old as well as new. Of course, that's not something Embraer would like to hear, and they try to push the E2, but they will have a more difficult time than they initially imagined, because their biggest competitor is themselves with the E1."
The current economic environment and the relatively low price of fuel could be factors as to why the E2 is not gaining as much transaction as originally expected. Scope clauses also play a role, because the E175-E2, the family's medium-sized model, has not been certified. Issues with the geared turbofan that powers the E2s may also cause hesitance, though the engines on the E2s are not showing the same difficulties as the ones on the A320s.
"You might see airlines stick with what they know and what they have, like BA for example flying the E1s from London-City airport. They might even increase their fleets so that they are continuing growing their business, not with new stuff but existing stuff that they know performs."
This article was published in Airfinance Journal, March – April 2019 issue.
3 April 2019