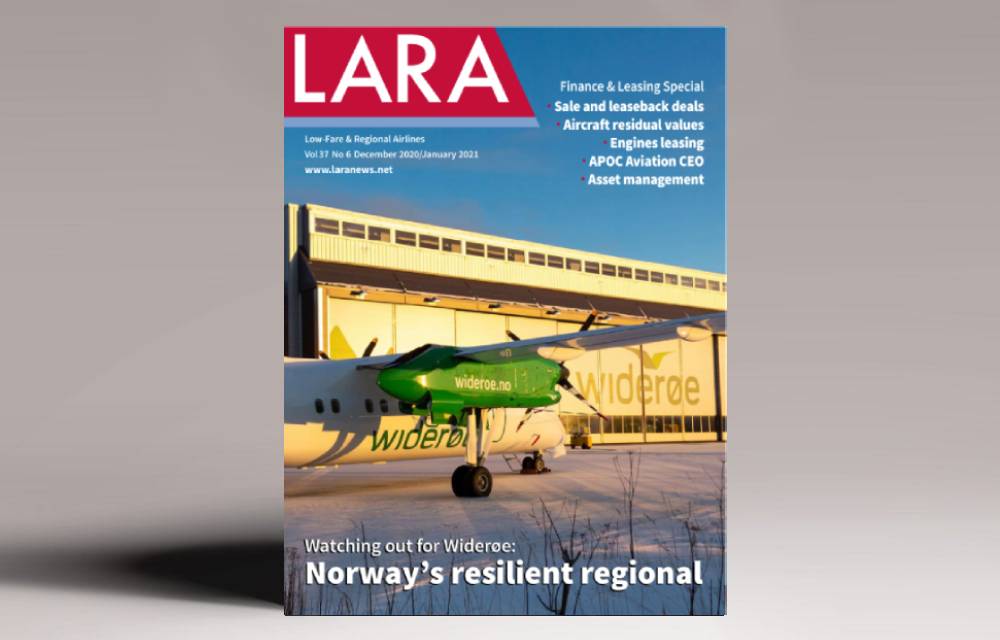 Keeping those assets covered!
No one could have predicted the impact of COVID-19 on the commercial aviation industry. Operators have had to make some tough decisions on their fleet to ensure their future. Michael Doran examines how the savvy shifting of assets may offer a solution.
Around 45% of the global commercial aircraft fleet is leased, and consultant IBA Group says that 1,300 of those leases are due to expire in 2021. In the days before COVID, having to find homes for 1,300 aircraft would not have been an issue, but with some 8,000 aircraft parked, the task has become just that little bit harder.
As more airlines face financial stress and even bankruptcy, how effectively lessors can manage and protect these assets is crucial to their own financial health. To find out how that process works in today's world, LARA spoke to lessors operating in both regional and mainline markets.
Jackson Square Aviation (JSA) has a portfolio of 232 aircraft, operated by 56 airlines in 29 countries, comprising Airbus and Boeing single-aisle and widebody aircraft. After speaking with Executive Vice President and Chief Technical Officer Aidan Reynolds, it's evident that actively managing and protecting US$8 billion worth of assets is a high priority for this lessor.
"We've always felt Jackson Square has taken a proactive approach to our assets and we like to know what condition they are in, know where they are and know about any issues with an aircraft," he explains to LARA. "We try to be ahead of the game and be proactive, not reactive."
This proactive approach starts with an assessment of a client's creditworthiness and technical expertise, which then dictates the frequency of the technical inspection audits that will be scheduled. All leases give JSA the right to inspect aircraft and documentation.
"The most important thing for any lessor is not just the physical condition of the aircraft but the technical records, because without the paperwork you've just got scrap metal," he says. "So, we try to keep a current copy of all the major technical records which we verify with the audits, but if we know the aircraft is well looked after we can rely on desk audits."
COVID has introduced a new step in the process, with JSA increasing how they monitor aircraft utilisation to see which aircraft are regularly flying and those that have been idle. With aircraft not flying there is a concern that components could be removed to keep other aircraft operational and while this does happen any signs of excessive use is concerning to JSA.
"So we will do spot inspections of aircraft that are not being operated to ensure they are kept airworthy, and so we know which parts have been removed from our aircraft to liaise with the operator and get them replaced," he says. "That is something we are focused on because you don't want to see it being overused on your parked airplane."
JSA has technical experts in its San Francisco, Singapore and Dublin offices, and Reynolds says they work hard at developing relationships with their counterparts in the airlines. "People oil the wheels of industry and getting things done and sharing information is important."
With such a large fleet, it is likely some operators will not make it through COVID unscathed and their aircraft may have to be returned or in the worst scenario repossessed, as was the case with the recent demise of Virgin Australia.
"It happens that airlines get into trouble and most of these repossessions are done under favourable, if not friendly, conditions and the airline works with you to get the aircraft back home," he says. "We haven't had to do a hostile repossession ever, and it has always been done by working with the airline."
The first step is getting originals of all the technical documents and having them verified through an aircraft facility, a process that can take months to work through with the airline. Once JSA is satisfied the aircraft is airworthy it organises a crew to fly the aircraft off to a storage facility or an MRO location.
The two B737 aircraft recovered from Virgin Australia were taken to Toowoomba Wellcamp Airport in Queensland and are being stored and maintained by Heston MRO while JSA finds a new home for them.
Pre-COVID the aim was to have a new lessee lined up before an aircraft is redelivered, which meant remarketing the aircraft and preparing for what modifications it might need for a new operator, possibly 12–18 months before a lease ends. With so many aircraft still grounded and so much uncertainty, it would seem finding new homes could be problematic for lessors.
The come-back kings?
"I think demand is going to come back very quickly and, for the aircraft we have in storage, we can have those aircraft ready in a short period of time and on to the next lessee to start operating them," Reynolds forecasts. "There's certain aircraft that will be difficult to come back, like widebodies, but for 737s and A320s I don't think it will be a problem, they will come back."
Regional aircraft specialist TrueNoord has around 50 aircraft on lease with its fleet made up of ATR and De Havilland turboprops and Embraer and Bombardier regional jets. It has airlines operating in all corners of the globe, and often its aircraft are vital to keeping remote communities connected.
Key to managing these aircraft – worth more than $820 million – is maintaining a close eye on how they are operated and maintained. To that end, TrueNoord's CEO, Anne-Bart Tieleman, says his technical team regularly visit clients to inspect the aircraft.
"We have client visits where we send technicians to view the documentation to make sure all the required maintenance items have been done and how they are keeping track of what's been done on the aircraft," he tells LARA. "That's a standard procedure, and before we enter into a relationship or move an aircraft, we want to make sure this is a professional organisation."
Aiding the management process is that commercial aviation is a highly regulated industry and local aviation authorities, such as EASA and the FAA, are also keeping an eye on operators and doing their own audits.
"Authorities need to do audits to see how businesses are behaving and acting, and so auditing is part and parcel of the leasing business," he says.
From its Amsterdam office, TrueNoord can see what is happening in real time with its aircraft, where they are and where they have been, based on GPS tracking data. There is also a monthly utilisation report from each operator detailing everything that has happened to the aircraft.
Essential to maintaining values is the availability of complete documentation on the aircraft and Tieleman says it is imperative that if something does go wrong to be able to trace back and find the causes.
"It's also a system to keep people sharp and make sure that everything is being done by the book, which is very important when you come to sell an aircraft," he explains. "Every buyer wants to see the documentation right back to birth, so you have a paper trail back to when the aircraft was delivered."
If there are gaps in the paperwork, invariably it costs time and money to find them and rectify work that has not been done or not recorded correctly, which impacts directly on the aircraft's value.
If aircraft are grounded, it's essential for a lessor to know that the correct procedures have been followed, although some airlines prefer to rotate aircraft on reduced frequencies and avoid the extra costs of storage.
Cooperation is key
"You can't just park an aircraft and hang the keys on the board and, when you want to fly it again, pick up the keys and go," Tieleman illustrates. "These programmes are provided by the OEMs for operators to comply with, and we want them to show us they have complied, so there is a little bit more work to that from an aircraft ownership perspective."
Even with the best intentions, it may be that some aircraft must be taken back by the lessor from a distressed operator and the most effective way to do that is cooperatively, rather than through a tortuous legal process.
"The most important thing is that you get the aircraft out in an airworthy, good condition because the last thing you want is that you enter into a fight and have to repossess the aircraft through the courts," he says. "Then you might not be able to move the aircraft and going to court is definitely not for free, and it also makes the whole case a little bit sour."
Most analysts predict the recovery in the airline market will begin with domestic and regional services and, with a fleet dedicated to the 50–150 seat market, TrueNoord is well-positioned, although remaining cautious about the pace of recovery.
"What we do find now is how important aviation is for the world, and these are aircraft that have capabilities that will be needed again, so we will find a new balance and move on," Tieleman concludes. "This situation will also create opportunities, and for us, as a lessor, the trick is to find those opportunities because aviation will definitely play a role in the new world."
11 December 2020