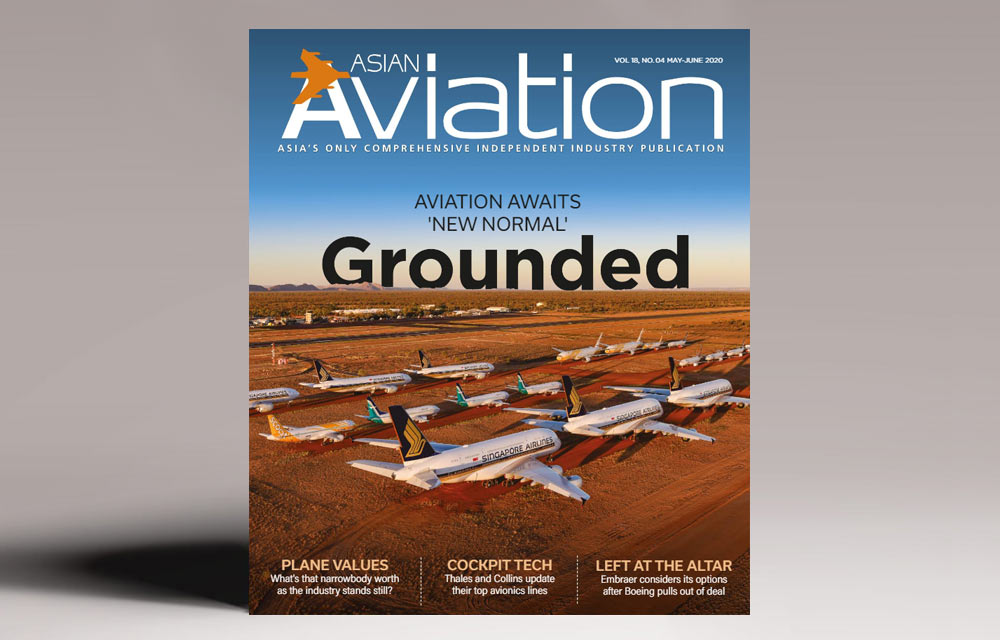 New-generation pricing
What commercial aviation will look like post COVID-19 is pure speculation but the people who put up the money to finance aircraft are looking for more than guesses in these troubled times, according to Michael Doran.
In early May, aviation consultant IBA presented its analysis on what effect COVID-19 will have on aircraft market values and lease rates and it shows that the virus will negatively impact values and most likely hasten the removal of older aircraft from the global fleet. IBA Head of Valuations Mike Yeomans, an accredited ISTAT Senior Appraiser, says that although aircraft base valuations will not immediately change, there will be a lowering of market values and lease rates brought about by the pandemic's impact on global commercial aviation.
Focussing on narrowbody aircraft, the IBA analysis clearly shows that there is a significant gap between the newer generation aircraft, such as the Airbus A320/321neo and the Boeing 737 MAX compared to the A320ceo and B737NG types. For new aircraft post-COVID-19, IBA believes there will be some small reductions in market value, ranging from 2 percent for an A321NX and up to 7 percent for a B737 MAX-8. Yeomans says these smaller impacts are because "a lot of these aircraft will have pricing that's already been locked in".
Looking at aircraft that were delivered in 2017, the gap between different generations of aircraft starts to become more pronounced. "This is where we see some of the trends around older and out-going generation aircraft being the worst affected and the newer generation aircraft holding up better," he says. "The A320/321neo are the least affected (5 to 2 percent respectively), but some significant downgrades of around 12 percent for the ceo and NG aircraft, with the neo retaining a slight premium above the MAX."
Unsurprisingly the trend continues with ageing aircraft, defined by IBA as 18 years old, with drop-offs in market value of 16 to 20 percent for the A320/321 and 737NG to 29 percent for the B757-200. "It is much more severe when you look at the 757 as you expect to see those aircraft coming out of operations in greater volumes and really not representing much more value than the value in the engines," says Yeomans.
Moving from market values to lease rates, IBA presents a similar picture, this time making the comparison between three year-old and 12 year-old aircraft, the latter being when an aircraft would typically be coming off its first lease Yeomans says. "Across the board we are expecting to see some pressure and a tightening of the band across some of the younger aircraft should those come into the market in a re-leasing scenario," he says. "We've highlighted a range of discounts between 10 to 15 percent, and that's across the ceo, NG, neo and MAX as what we might expect to see in a re-lease situation."
As expected the discounts are greater in the older aircraft with IBA assessing the A320 to fall by 18 percent and a 16 percent drop for the A321, 737-800 and 737-900ER and Yeomans expects these aircraft are going to fall from favour over the next 18-20 months.
IBA also calculates that approximately 3,400 narrowbody aircraft could be prematurely withdrawn from service over the next 20 months, a net reduction of 7.5 percent of the total narrowbody fleet. This will be due to a combination of airline failures, restructuring of operations and scheduled end-of-leases. This will see the end of the road for most Boeing 717, 737 Classic and 757 aircraft as well as the MD-80 and MD-90.
Regional aircraft leasing specialist TrueNoord has a fleet of 47 aircraft made up of eight aircraft types and valued at around US$827 million so is in a strong position to understand where aircraft market values are sitting. CEO Anne-Bart Tieleman says 2020 started well for TrueNoord with deliveries of two ATR72-600 aircraft to US Bangla and a De Havilland Dash 8-400 to Philippine Airlines in the first quarter.
"What we were seeing was a further establishment of the aircraft leasing industry, also in our niche of the regional aircraft market," he says. "There was actually a lot of investment plans in our industry and we were looking at our business to definitely grow further in 2020."
The world changed irrevocably when COVID-19 arrived and Tieleman says that it is still too early to know clearly how that will affect the values of regional jets and turboprops. "Regional jet values and lease rents have been influenced by appraisers anticipating oversupply, but since there have been very few aircraft trades since the onset of COVID-19, much of the analysis appears to be based on their view of demand and the associated revenue earning potential, rather than actual trades," he explains. "Until a sufficiently statistically significant number of trades have occurred we can only speculate about regional jet values.
"TrueNoord believes that the effects of COVID-19 will be a driver in further delays as initially many airlines will be focussed on re-establishing their operation, load factors and yields, rather than altering the composition of their fleets," he added.
Indeed the uncertainty around how quickly the aviation market will rebound may well prove to be an opportunity for regional aircraft as routes take time to regain previous passenger volumes. "This is partly because it remains a question whether markets will pick up to former levels quickly and the larger regional jets which offer lower cost per trip and profitability on thinner routes are the tools of choice for such uncertainty," says Tieleman. "However plans for the phase-out of smaller regional jets could be accelerated as any crisis and subsequent restart provide an opportunity for airlines to bring forward plans that already exist.
"In terms of values we would suggest that there could be some short-term volatility in regional jet values and lease rates but that the larger regional jet values would stabilise and recover ahead of larger narrowbody and widebody types and that the smaller sub-70 seaters will weaken further."
Looking ahead to the recovery phase it seems that turboprops may bounce back quickly based on the demographics and geography of the markets they serve.
"Turboprops are often used in domestic operations or to neighbouring countries and a return to service will initially be a domestic service fulfilling an essential travel demand, in particular in rural areas where geography limits alternative modes of travel," Tieleman said. "We therefore believe the turboprop will be slightly faster to regain on demand and thus lease rent and market value.
"So people will start to carefully move again and that is what we see happening in our business as well, we see airlines starting to plan and act in starting the operations again," he added. "So I expect that the business is picking up again but it's definitely not a V-shaped recovery, this is going to take more time and that's not only because of the COVID-19 issues but also the economic impacts, so at least until 2021, if not a little bit longer."
28 May 2020