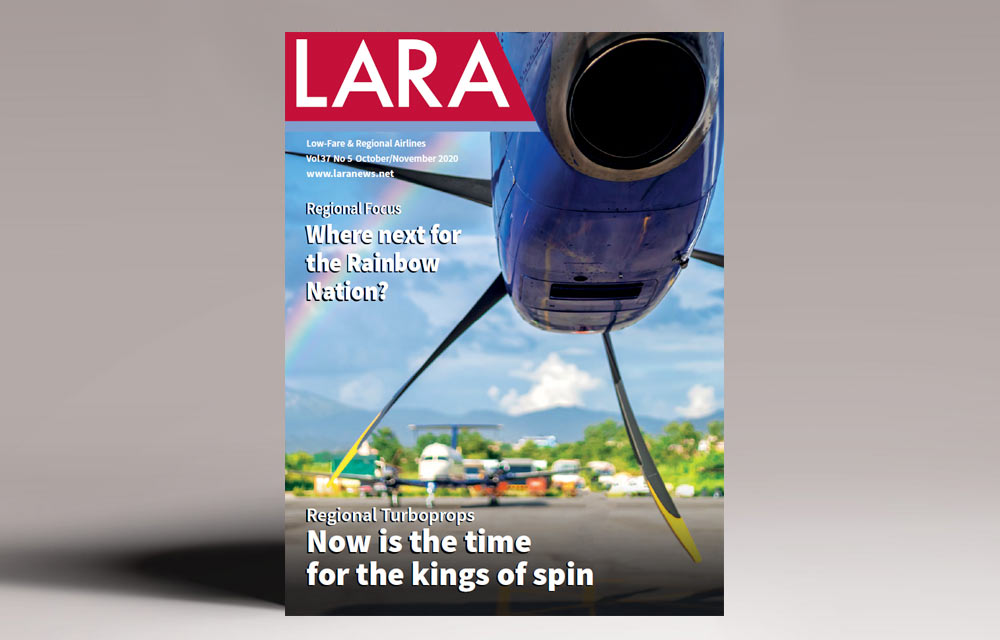 Those Timeless Turboprops
Much like the rest of the commercial aviation industry, the turboprop market took a significant hit due to the pandemic. Worldwide groundings, travel restrictions and a drop in passenger numbers contributed to operators mothballing their fleets while they waited for governments to create a unified plan.
But, with the green shoots of recovery now looking a little more healthy for the sector, it's evident that turboprop operations are in a position to recover more quickly than the larger international carriers. That's the view of Angus von Schoenberg, Industry Officer for TrueNoord, the regional aircraft leasing company with offices in Amsterdam, Dublin, London and Singapore.
"The turboprop market, like every area in aviation, has had a vastly negative impact due to what's happened. But, having said that, the use of turboprops in today's environment has been somewhat less impacted, from what I have seen.
"You only have to look at how they are used, which is mainly on domestic and regional routes to neighbouring countries. In other words, they have been less affected by the international travel restrictions and regulations which are somewhat haphazard around the world at the moment.
"It also has to be remembered that the turboprop operators tend to operate to small, unpopulated, poorly served areas, like the Indonesian islands or, in the UK, to the remote parts of the Highlands. A lot of these routes are what you would define as a public service obligation route in a European context – in the US they call it essential air services.
"In Asia, the routes are often government subsidised or government-encouraged in one way or another. Some of these routes have continued throughout the pandemic, simply because they're essential and there may be no other way to access these places as ground transport may not be an option. As a consequence, a number of turboprop routes have remained in place and the number of aircraft flying as a proportion of the total fleet is greater than any other class of assets. In this way turboprops differ from other classes of aircraft."
Whether this situation persists once commercial aviation emerges from the pandemic remains to be seen. Regional jets are also being put back into service, as they offer lower capacity compared to narrowbody aircraft in the current lowdemand environment, and Schoenberg believes that turboprops will still be ideally positioned to respond.
"It's obvious that the turboprop market as a whole will take an awfully long time to get back to its 2019 level. If I was being particularly pessimistic, it may not get back to the same levels of traffic for the foreseeable future. But turboprops offer smaller capacity that can operate flexibly in many markets, carrying 19 to 80 seats."
The higher seat-density aircraft, such as the Dash 8 Q400 and ATR 72-600, primarily operate in Asia and within Europe, where the seating capacity hovers around the low 70s. Although not a solution for longer routes (most turboprop connections are no more than an hour to 90 minutes in duration), they are like buses – more frequent and make a greater number of connections.
"For the low-demand markets, turboprops are the ideal piece of kit and also address the environmental issues that are beginning to impact commercial aviation as a whole," says Schoenberg.
A real sense of optimism
Although turboprop engines have not changed much within the past 20 to 25 years, in terms of fuel consumption and therefore carbon emissions, turboprop aircraft are more efficient than any jet. With the advent of alternative power sources such as electrification and hydrogen, turboprops will be ideally placed to take advantage of such technology. Schoenberg offers his view:
"These types of technology are at least 10 years in the future and, when they do become available, turboprops will benefit first because of their smaller scale. But a lot of this will be down to how any new innovation manages weight, which is why I don't think it will be possible to get this technology into larger aircraft until much later.
"I believe this will start making an impact within the 19-seater market then slowly creep up to the 30-seater types. Having said that, while the technology may be available, the timeframe may be greater than 10 years due to the time to get these developments certified. A major problem I see is with the regulatory bodies. They will have to develop the appropriate rule books for electric and hybrid propulsion – this process may take at least five years.
"There's a real sense of optimism in this technology but, like many, we're asking how long? It depends on where political pressure is strongest and what state aid requirements are being proposed, like those involving Air France and Lufthansa. I believe we'll see this technology within Europe, and I believe that's where it will make the most impact. For the rest of the world, there may simply be other factors that are more in demand."
Regional moves
The main region driving the global use of turboprops is focused on Asia where there has been substantial growth in the past 10 to 15 years.
"It's the biggest market share at the moment and I can't see it changing in the near future as there's a demand for more connectivity which helps growth within the area," says Schoenberg.
"There are a lot of poorly connected markets in this part of the world and only a turboprop can help with this."
North America has never really been considered a turboprop market with the exception of Canada which saw a steady rise in operators prior to COVID-19. One advantage is that Canada has its own
turboprop aircraft manufacturer. De Havilland Aircraft of Canada produces the Dash 8-400, regarded as the world's most advanced turboprop.
But, according to Schoenberg, this is too big to operate in some of Canada's more remote regions, which is why some of the older variants, like the -100, -200 and -300 have remained in service despite being overdue for replacement. Although life extension programmes for the Dash have allowed these older models to increase from 80,000 to 120,000 cycles, the economics of performing these upgrades compared to the cost of the aircraft is questionable. Schoenberg says there's a clear need for a new sub-50 seat turboprop type, and the only option out there at the moment is the ATR 42. But many small operators simply can't afford to replace their whole fleets with more modern types.
"The idea of a clean sheet design for this market is being overlooked in favour of the more glamorous start-up tech companies offering an as yet unsubstantiated vision. A baseline turboprop of this size should be around US$16 million and will simply be used on short and low-density routes, so potential customers need to ask themselves if they can afford it.
"The other problem is, with new technologies coming along, do you risk building a 'dinosaur' when you know that electric or hydrogen power is coming along? Any manufacturer is taking a big risk if the type may only serve for 10 years or less before new technology takes over. Furthermore, in the more remote markets where such aircraft would be operated, will the necessary infrastructure to enable these new technologies to operate be affordable?"
A lessor's view
Asked about his views on China's entry into the turboprop market with the AVIC Xian MA700, which is clearly inspired by the ATR 72, Schoenberg states: "You may well get examples of Chinese types being sold into their own regional market or Africa as part of offset trade deals, but the major issue with these types is the after-sales support. Keeping them flying when something goes wrong can be a major problem."
Schoenberg openly admits TrueNoord is still the new kid on the lessor block but has grown to a fleet of 50 aircraft and many of those are the most modern types available. Although regional jets currently dominate its inventory, the turboprop market shows no signs of shrinking. But in the short-term demand, lease rates and values have all been heavily impacted by COVID-19. However, manufacturers are no longer turning out new aircraft at previous production rates as, in some cases, those that have been delivered are already surplus. This may mean a re-negotiation in terms of leases to reduce the short-term impacts of high capital expenditure. Lessors are keen to keep operators in business as much as airline CEOs are.
15 October 2020