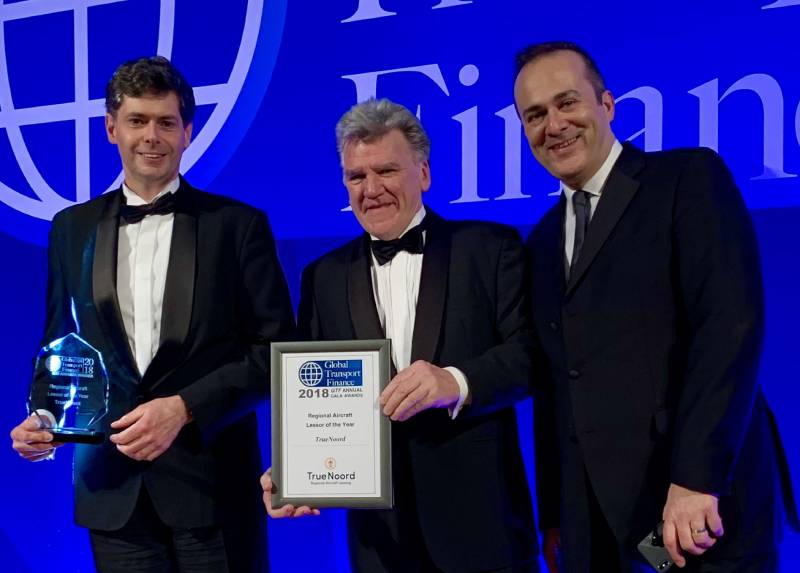 TrueNoord announced as winner of the Global Transport Finance Regional Aircraft Lessor of the Year Award 2018
Regional aircraft leasing specialist TrueNoord is proud to announce that it has received the Regional Aircraft Lessor of the Year Award 2018 for the second consecutive year.
TrueNoord was presented with the award on the 31st of January 2019 at the Global Transport Finance Annual Awards and Gala Dinner in London in recognition of its recent growth, professionalism and dedication to the regional aviation industry. 'Regional Aircraft Lessor of the Year' is a relatively new award which recognises the growth and development of regional air transport and the important role to be played by lessors within this sector.
In the past 12 months TrueNoord has doubled its fleet from 17 aircraft to 34 and has successfully established itself in new regions across the world. TrueNoord has also expanded its capital base in 2018 having secured a senior secured debt facility of US$ 500 million in July. The facility is being deployed to refinance part of the existing TrueNoord portfolio of Embraer, Bombardier and ATR aircraft. The remaining part of the debt facility will be used as a warehouse for future business development and fleet expansion.
Anne-Bart Tieleman, CEO of TrueNoord, comments, "We are delighted to receive the Regional Aircraft Lessor of the Year Award for the second year running. 2018 has been a very successful period for TrueNoord in terms of growth and we are thrilled to be making such significant progress. This award endorses investor confidence in TrueNoord and in the regional aircraft leasing sector. We hope to continue the success of 2018 as we work towards our long-term plan to be one of the leading global leasing companies specialising in regional aircraft and to build up a strong portfolio of young regional aircraft types leased to leading operators around the world."
17 February 2019