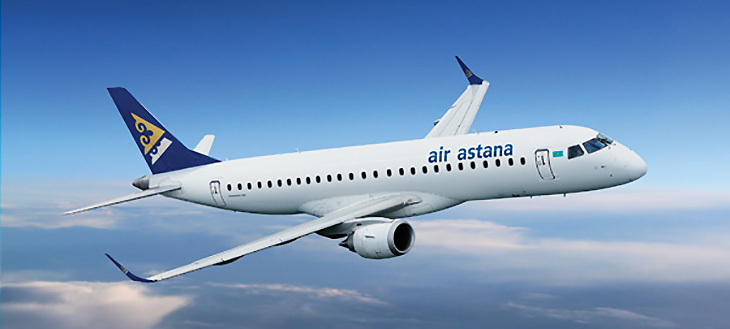 TrueNoord closes financing facility for two Embraer E190 aircraft leased by Air Astana
TrueNoord, the regional aircraft lessor, has closed the final term financing facility with DVB bank and PK AirFinance for the remaining two of the six Embraer E190 aircraft that it purchased from BOC Aviation earlier this year with leases attached. These two aircraft are operated by Air Astana.
This new portfolio of six globally operated E190 aircraft spearheads TrueNoord's highly targeted on-going development strategy for its regional aircraft fleet under lease, supported by investment from private equity firm Bregal Freshstream and Blackrock.
Financing is now completed for the six aircraft from the BOC Aviation purchase (operated by AeroMexico, TUI (Jetairfly) Belgium and Air Astana) and TrueNoord is accelerating its acquisitions in the regional aviation sector with a global remit. Currently the organisation is exploring a wide range of opportunities across Asia as airlines throughout the region seek new financing solutions for their expanding regional operations.
Regional aircraft enable network airlines to optimise capacity and frequency, and compete favourably with the operating costs of narrow body aircraft particularly on short sectors. Anne-Bart Tieleman, CEO – TrueNoord, observes that "Many regional carriers are a strong lending or leasing risk proposition either because they are part of a major carrier and/or they have clear niche markets with high yields. Aircraft values for current generation regional types have held up strongly since their respective entry to service when compared to most narrow body aircraft. The regional aircraft finance market is characterised by a growing level of operating leases and the absence of many traditional sources of financing creates opportunities for specialists like TrueNoord. As we look ahead to the Paris Air Show we see a regional sector with abundant opportunities worldwide."
The creation of a globally diversified fleet of regional aircraft is TrueNoord's primary focus and it is on track to expanding its assets further throughout 2017.
For further information about TrueNoord, expert commentary regarding regional aircraft leasing and global market insights, director biographies and photographs – please contact:
Inter Relations & Company
Tel: +44 1403 218588
Cell: +44 7785 306445
Jane Goring: jane@inter-relations.co.uk
Lizzie Cooper: lizzie@inter-relations.co.uk
19 June 2017