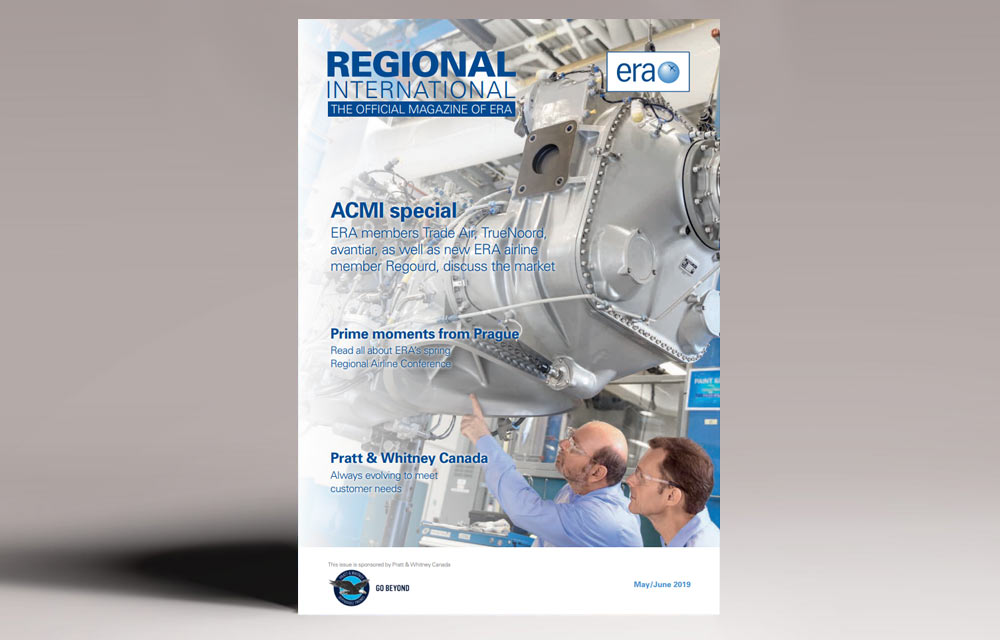 A growing market for regional ACMI
Wet leasing is a mature product in that several providers have been active in these markets for many years. Outside North America, wet leasing has, until recently, primarily been as ad hoc or shorter duration seasonal flying. Angus von Schoenberg, Industry Officer for ERA member TrueNoord, takes a closer look at this and the wider ACMI market.
Recently, long-term wet leasing from third parties has grown considerably in Europe, particularly in the regional sector. Although this market has always existed, it was mostly served by wholly-owned subsidiaries and supplemented by relatively short-term third-party contracts. Currently, these third-party wet-lease contracts appear to be trending towards longer term capacity for mainline carriers, comparable to the US Capacity Purchase Agreements – a trend that SAS has pioneered.
Advantages of wet leasing
From an airline perspective, ACMI leasing can provide ultimate flexibility by offering capacity only when it is needed to cover seasonal requirements or maintenance downtime. In addition, wet leased capacity can also provide a useful tool to prove the viability of new routes. However, the cost of wet leasing aircraft is relatively high because not only do the providers need to make a return, but they also need to cover the costs of idle periods.
For those carriers that increasingly wet lease regional aircraft capacity on a longer term basis, the principal benefit relates to crew costs. ACMI providers tend to have lower crew costs than the heavily unionised major carriers. As this is the largest cost item along with fuel and maintenance, lower crew costs can bring significant benefits that can be passed on to major airlines so that in some cases, airlines dry lease aircraft to their affiliated regional operators and then wet lease them back. In addition, mainline carriers can save on certain overheads. If
a large airline wet leases its regional capacity, there is then no need to develop its own maintenance and operational infrastructure for a different aircraft type.
Impact on leasing
Traditionally, operating leasing has been a less popular way of financing aircraft that operate on ACMI. As wet leasing outside North America has been dominated by shorter duration contracts where annual utilisation is usually less than that of scheduled operations, the fixed term nature of operating leases with level monthly rents often do not work well for such operations when providers need to match their uneven revenue streams with their operating costs. By contrast, for those airlines in North America that fly for major airlines on long-term contracts that can exceed 10 years, the buy-versus-lease decision becomes similar to that of any other carrier.
In Europe, the balance may be shifting in favour of leasing. For those with capacity contracts with terms exceeding a few years, operating leases can be an optimal form of aircraft finance. In such cases wet lease capacity providers can closely match the terms of their leases with those of their ACMI customers and thereby reduce the risk of being left with redundant aircraft.
From a lessor risk perspective, this trend has certain implications. Given that the lessee may be a wet lessor and the ultimate beneficiary of that capacity is another carrier, the risks are divided between two entities. TrueNoord has several aircraft leased to wet lease capacity providers and has adapted its processes and lease contract arrangements to account for this. In general, if an aircraft is operated on behalf of an established mainline carrier this should reduce risk for the lessor, but this is not always the case. For example, if the interests of the lessee and those of the airline for which it operates cease to be aligned, or in the worst case are terminated, the level of risk can be greater than if the lessee operated its own services – especially if its dependency on that customer is high. In the past we have seen many wet lease capacity providers disappear when their principal changed strategy and terminated the wet-lease contracts.
European protagonists
TrueNoord is an integrated service provider supporting airlines and ACMI operators worldwide with hardware and a range of flexible lease solutions designed for diverse and variable needs. Through its events and publications ERA brings us together with all the European protagonists in this debate. By having both capacity takers and providers under the same roof, we can discuss trends with all participants. In this way we can identify opportunities, combine them with other developments elsewhere in the world, build strategies to optimise specific transactions, and shape our portfolio to meet the changing needs of regional operators everywhere.

This article was published in ERA's Regional International magazine, May – June 2019 issue.
31 May 2019