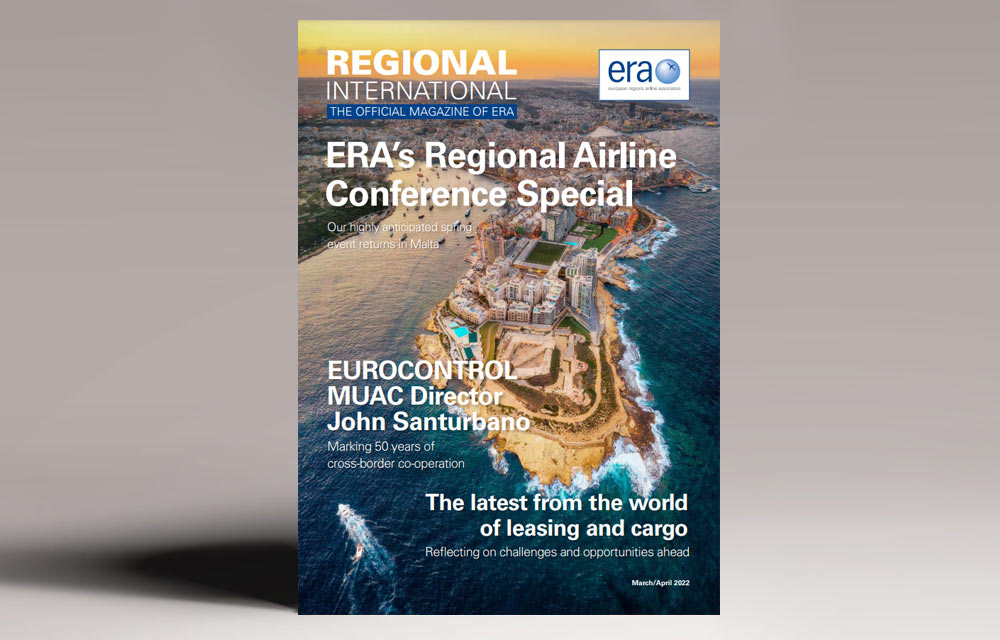 Is Europe calling time on regional aviation?
With increasing pressures on aviation, Michael Adams, Executive Director, TrueNoord Services Ireland / Sales Director Europe, interprets the prevailing trends from a lessor's perspective.
From flight shaming to legislation, aviation in Europe is facing greater scrutiny than ever before. With sufficient other transportation options that some see as a more efficient, cost effective and sustainable alternative, an increasing number of European countries are banning domestic flights below a determined length of distance and/or time – flights which have historically and predominantly been operated by regional aircraft. So, does Europe need, or even want to see widespread regional aircraft operations?
To answer this question, we need to explore some of Europe's unique geographical aspects. It may be a continent with a significant land mass, but Europe also comprises 119 islands with a population of at least 10,000. Most are connected by ferry, tunnels, and bridges, but many also rely on flights to provide essential connectivity. The world's shortest commercial flight from Westray to Papa Westray in Scotland's Orkney Islands is one such example.
Europe also has many public service obligation (PSO) routes operated by regional aircraft, from northern Norway to the Greek Islands. The mere fact that these routes are served under PSO is recognition of the critical economic benefit of connectivity by air. However, there is growing pressure on operators of many such PSO routes to operate in a more environment, social and governance (ESG) conscious way. This explains why several operators have signed commitments with original equipment managers (OEMs) proposing aircraft with alternative electric or hydrogen powerplants.
It is with regional aircraft where we have already seen early step changes in more ESG conscious aircraft operations. Arguably Europe, with pressure from its people and their governments, and therefore European airlines operating regional aircraft, is at the forefront of such developments.
In-house operations
The question then turns to the structure of regional aircraft operations across Europe. In the US, major 34 Regional International – March/April 2022 airlines outsource most regional aircraft operations under capacity purchase agreements (CPA) and although some replication of this exists in Europe via specialist aircraft, crew, maintenance and insurance (ACMI) operators, most major European airlines prefer to keep regional aircraft operations in-house. The table below presents this growing trend in Europe. It is also interesting to note that one major European airline,
which has hitherto extensively used ACMI operators, has recently elected to establish its own in-house midsize regional jet operation.
Unlike the US model, one complexity that European ACMI operators face – especially where there is a requirement from their customers for multiple bases in different European countries – is in respect to crew contracts. Each jurisdiction has its own labour laws, which need to be adhered to.
Another benefit for European airlines with in-house regional aircraft operations is that regional aircraft provide those airlines that operate larger aircraft with the means to right-size in order to match demand. The positive effects of this have been clearly demonstrated throughout the COVID-19 pandemic. Trip cost rather than seat cost has returned to foremost importance to such airlines. Europe saw many examples of regional aircraft on routes traditionally flown by narrowbody aircraft including regional jet flights on routes up to four hours, for example from Southern Europe into Africa.
Fleet configuration
Further evidence of the impact of COVID-19 has been that many major European airlines have deferred their replacement of current-technology regional jets. Not only were lease deferral agreements often linked to lease extensions, but with so many European airlines securing government support to weather the pandemic, the greater the need was (and is) for these airlines to restore their balance sheets before committing to next generation regional jets. There are multiple examples of European airlines planning to operate their existing regional aircraft to the end of this decade before introducing next generation aircraft. We will also see more European airlines investing in cabin upgrades rather than replacement aircraft.
Across Europe there are indications of fleet simplification amongst Europe's regional aircraft operators. This applies to rationalisation of aircraft types operated in the fleets of major European airlines, to consolidation in the gauge of the aircraft operated. Some have expressed interest in Airbus developing an A220-500, because this would allow fleet commonality through both regional and narrowbody aircraft operations. Furthermore, although there are notable European operators of De Havilland turboprops, many are being replaced by ATRs. This offers ATR
a tremendous opportunity and goes some way to explain the recent strengthening of lease rates for ATR72-600s. Has Embraer also recognised this? Will this argument justify the development of its planned new turboprop? Time will tell.
Europe also sees regional aircraft planned for innovative applications, from intercontinental all-business-class operations from London City Airport, to reconfigured current generation regional jets as corporate shuttles.
In conclusion, Europe is far from seeing the demise of regional aircraft operations. A combination of new technology addressing ESG concerns, requirement to right-size and the ongoing fulfilment of PSO obligations will see the continent's operators look afresh at the solid business case for regional aircraft.

Download the full article as PDF
Article courtesy of Regional International: https://www.eraa.org/publications/regional-international
29 March 2022