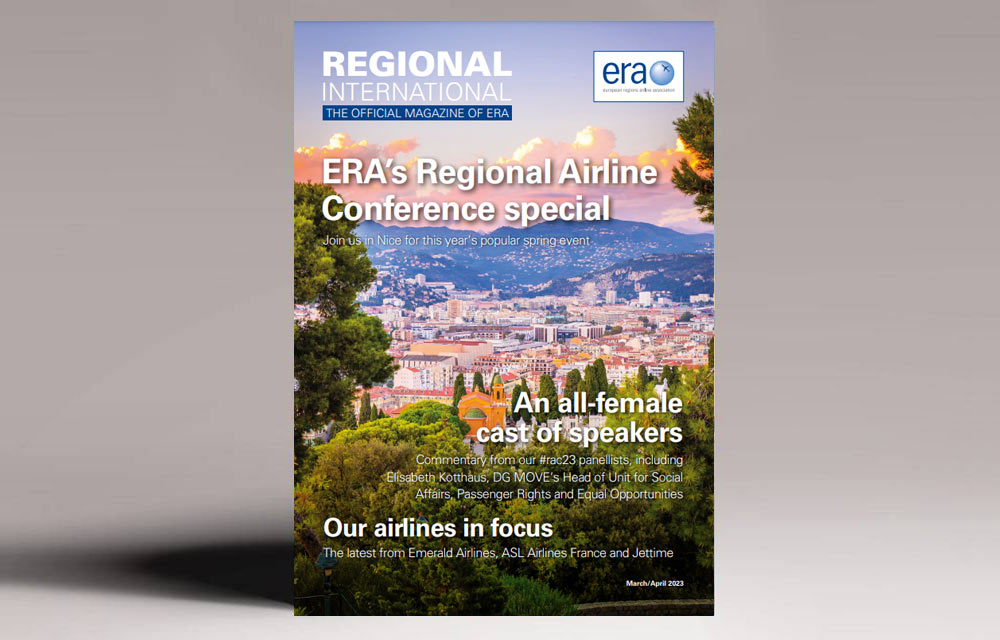 Market Review: Aviation supply chain faces strain
Michael Adams, Executive Director of TrueNoord Services Ireland and Sales Director Europe, shares the latest market trends and forecasts for regional aviation in Europe in 2023.
Like many others, I was very pessimistic mid to late 2022 about our industry's prospects in Europe in 2023. With so many reported economic headwinds, from rising energy and food prices to increased borrowing costs, not forgetting the war in Ukraine, it would have come as no surprise to see these factors impacting travel demand.
However, early indicators, such as SAS reporting an 89 per cent year-on-year increase in passengers for January 2023, and Dublin Airport recording its busiest January on record with 2.1 million passengers – a two per cent increase over January 2019, could signal a strong year ahead for the industry in Europe.
There will of course be ripples to growth, with the first of these in 2023 being the demise of Flybe, again. Recent reports suggest that interest in acquisition of Flybe 2.0 is all about airport slots. As Jonathan Hinkles, Loganair's CEO recently so succinctly expressed, the UK's challenge for regional connectivity is that Flybe's London Heathrow slots could be lost to international airlines. Could the same happen at slot-constrained airports elsewhere? Thus, resulting in other regional airlines losing regional routes by stealth, or possibly consciously by governments under the guise of environmental, social, and corporate governance (ESG).
OEMs manage increased demand
In respect to regional aircraft manufacturers, ATR, and in particular the ATR72-600, appears to be enjoying the greatest pick-up in demand. The recent shift in demand exceeding supply has already resulted in some initial adjustments of appraised current market values and current market lease rents. ATR's production rate is forecast to be below preCOVID levels for at least the next few years as it continues to be impacted by supply chain constraints. Therefore, a further improvement of values and lease rates in the near term is highly likely.
Embraer is also facing supply chain constraints, but has had recent success securing demand for E2s, possibly driven by earlier delivery slot availability than for Airbus A220s. It is our understanding at TrueNoord that the earliest Airbus A220 slots are now in 2027, although the recent twenty A220 order cancellation by Air Lease Corporation may provide some earlier slots.
Some European regional aircraft operators are due to place next-generation regional aircraft orders in the coming years. LOT issued a request for proposal for 62 aircraft in 2022 and other operators are at various stages of engagement with original equipment manufacturers (OEMs) and aircraft financiers, including lessors. Factors such as OEM delivery slot availability, forward order lessor slot availability, OEM escalation rates and rising funding costs will all influence their ultimate choice.
The above factors, plus continued constrained balance sheets, could potentially lead to more operators extending the operating lives of current generation regional jets. It is also likely that some airlines will operate complementary fleets of current and new generation regional jets for a period to provide security of dispatch while delayed aircraft delivery and supply chain issues are resolved.
Pursuing green solutions
Of real encouragement is that European regional airlines are at the forefront of ESG initiatives. One example is Widerøe working with Rolls-Royce and Embraer on a joint study into new zero-emissions regional airliners.
Recent reporting suggests that Embraer will suspend plans for a new turboprop aircraft. If this is indeed the case, it is likely related to Embraer's struggle to find an engine OEM prepared to invest in developing an engine that meets Embraer's performance commitments already made for a new turboprop. It is also highly likely that further delays in the development and certification of a new turboprop is encroaching upon Embraer's timeframe for readiness of their Energia concept aircraft.
In broader terms, this same issue is influencing the development by all aircraft manufacturers of clean sheet aircraft to replace current variants. I strongly believe that all established OEMs are paying close attention to new entrants especially in respect to alternative, new green technology propulsion systems. It is my personal belief that we are unlikely to see full development, certification, and entry into service of an aircraft with new technology propulsion system by a new entrant OEM. More likely is that an established OEM, if they have not been able to develop such an aircraft themselves will at some point, once forerunners have been established, acquire such a company for their certification and entry into service.
The exciting element for us at TrueNoord, and everyone involved in regional aviation, is that true innovation in respect to new green technology propulsion systems will first manifest itself with regional aircraft.
Article courtesy of Regional International: https://www.eraa.org/publications/regional-international
30 March 2023