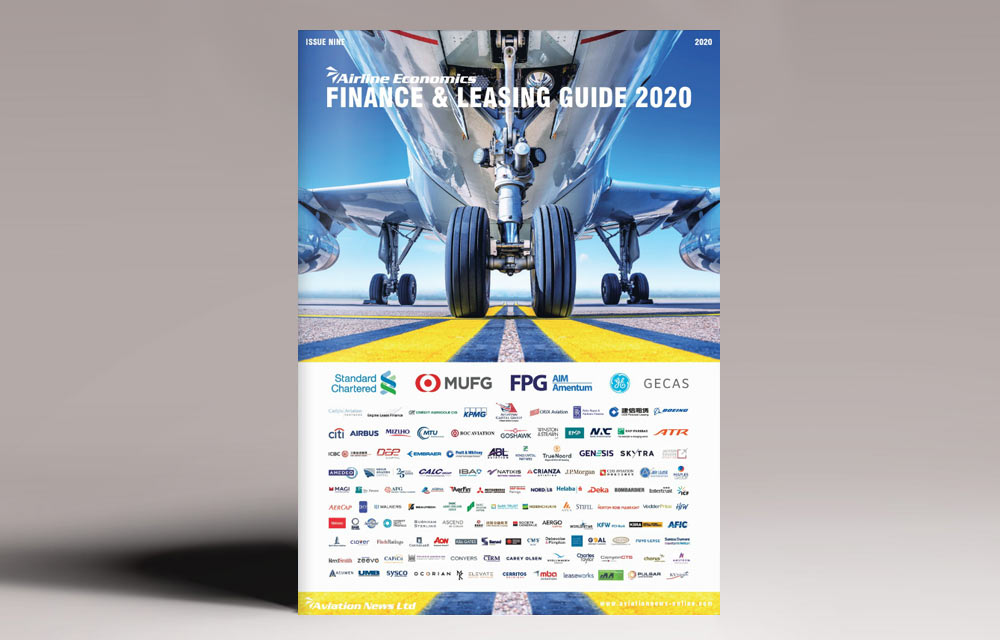 Niche sector or mainstream opportunity?
Specialist regional aircraft lessor TrueNoord examines the evidence. By Angus von Schoenberg, Industry Officer, TrueNoord.
While air travel growth is moderating in mature North America and European regions, it continues to accelerate in emerging markets and since 2013, global annual passenger traffic growth has exceeded 8%. During this period the fleet of large turboprops and regional jets have contributed to meeting this demand by growing at 4.5% and 7.3% per annum respectively. As such, the fleet of current generation in-production large (over 70 seat) turboprops manufactured by ATR, and newly rebranded de Havilland Canada, has grown from some 1,150 to 1,490 in the past seven years, and regional jets from Embraer and erstwhile Bombardier have expanded from around 1,600 to 2,430 over the same period. Although substantial, this remains a small market compared to more than 8,100 A320 family narrow bodies, a similar amount of B737s and around 4,000 8777 and A330 wide bodies.
In future, air traffic is projected to continue an upward trend led by emerging market expansion with Asia Pacific and Africa forecast to grow at 5 5% per annum respectively. According to TrueNoord, from a combined turboprop and regional jet fleet perspective this is expected to translate to a near tripling of the Asia Pacific regional aircraft by 2038 as shown in Figure 1. A significant portion of this growth is expected in the thinly populated parts of western China where some 150 smaller regional airports have been developed in recent years. Much of the remainder will be attributed to the air travel aspirations of the growing middle classes, and the need to connect remote islands and regions throughout Asia to major centres.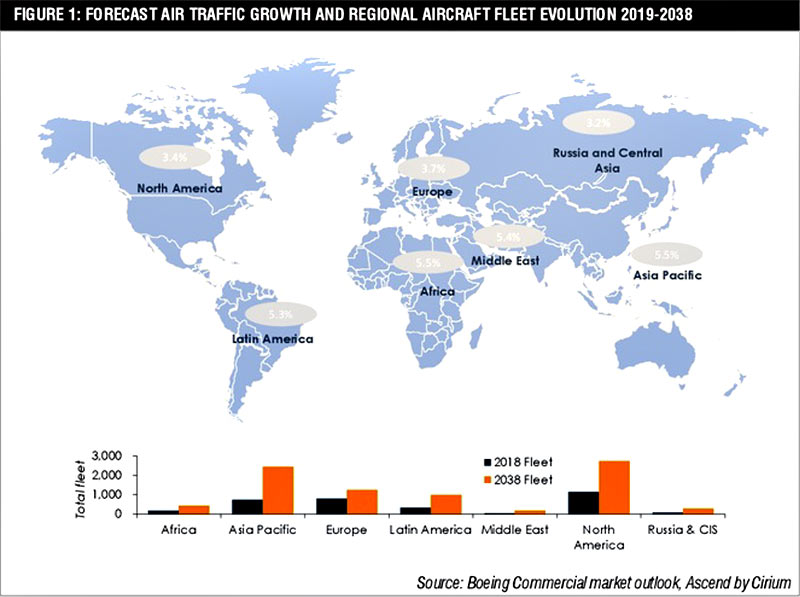 As North America is the largest regional marketplace, its fleet size is also expected to reach nearly 3,000 units, but this increase will be driven by a combination of fleet replacement, more point-to-point services, and up-gauging subject to the constraints of scope clauses. Latin America will also see a substantial fleet expansion approaching European levels reflecting greater incomes and the need for improved connectivity in the absence of alternative infrastructure.
APPLICATIONS OF REGIONAL AIRCRAFT
Notwithstanding a general trend towards large aircraft in the regional and narrow body segments, turboprops and small jets with under 130 seats remain the aircraft of choice for short distance trips as shown in Figure 2. From a sector length exceeding 250km, the balance shifts towards larger mainline aircraft. Both in Europe and Asia, regional aircraft dominate on sectors below 500km, while in North America. they also operate many longer and thinner routes. Increasingly, regional aircraft also fly off-peak services on routes normally operated by narrow bodies at peak times, and they are used to feed hubs from secondary cities. This is often referred to as right-sizing.

Some regional aircraft, turboprops in particular, are commonly used for essential service applications in remote regions or islands. These are often government subsidised monopoly routes where wholly commercial flights are not viable. Often, these destinations have short runways or difficult terrain where mainline aircraft cannot operate. In Europe alone, there are about 200 such public service 'obligation' routes in areas ranging from northern Norway to the Azores. In addition, many turboprops and regional jets are deployed for unscheduled fly-in fly-out (FIFO) applications to support natural resources industries in particular. A prime example of such operations is found in supporting the mining industry in Australia.
STRONG VALUE RETENTION
The types of applications on which regional aircraft are deployed have a significant impact on their long-term value retention. Figure 3 demonstrates that over the period since 1995, the long-term values of both turboprops and regional jets compare favourably to those of narrow and wide body types.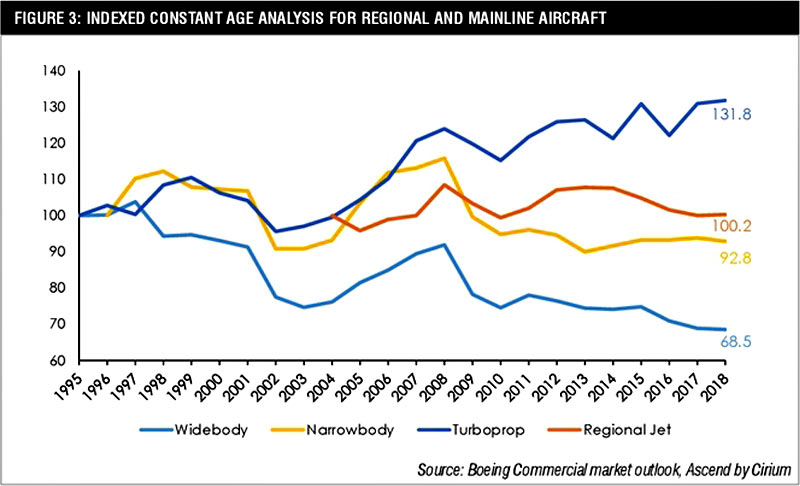 Regional aircraft are deployed across the globe for shorter and, by definition, more local flights. Such local markets are not uniformly affected by global economic fortunes so a recession in one region can be counterbalanced by growth in others. For example, an oil price spike benefits some local markets and harms others. This creates more balanced demand and supply patterns as aircraft can be easily moved says TrueNoord. Furthermore, short regional aircraft flights, which are often essential services, are less exposed to tourism related travel which tends to suffer more in times of economic weakness. In addition, if demand suffers a decline in mature markets, airlines often deploy regional aircraft on narrow body trunk routes to reduce capacity and trip costs but maintain frequency and protect slots at congested airports. This was a popular strategy on US domestic shuttle routes during the 2008 financial crisis and served as a partial deal and insulator for regional aircraft.
In relation to the aircraft themselves two further considerations are important value stability drivers observes TrueNoord. First, since regional aircraft are primarily for short flights, their product configuration is more standardised so transitioning an aircraft from one carrier to another is much simpler, faster and less costly than configuring a wide body with a bespoke interior. This benefits lessors during remarketing and maintains trading liquidity. Secondly, since cosmetic product quality is less important for short routes, regional aircraft, particularly turboprops, often have longer then average economic lives as operators are often more willing to acquire aircraft that have previously been flown by others. When these factors are combined with the fact that fuel burn differences on short flights between the newest generation aircraft and used examples are less than for longer range large aircraft, the case for the lower capital cost of used aircraft can often be compelling.
LEASING PENETRATION
Whilst an increased proportion of leased aircraft is a feature of all categories of commercial aircraft fleets, the penetration of leased regional aircraft as a proportion continues to lag behind both narrow and wide body aircraft as can be seen in Figure 4. However, as TrueNoord points out, the gap is narrowing, especially for turboprops, and this is down to a number of factors. First, as the previous generation of 25-30 year old aircraft with low appeal to lessors is phased out and replaced with newer aircraft, the proportion of leased aircraft has grown. Secondly, this market is now being served by a small group of increasingly professionalised sizeable lessors whose sole focus is new or mid-life regional air craft. Consequently, these lessors have improved access to competitive funding from both lenders and capital markets and this benefit can then be shared with lessees to create attractive leasing options for regional carriers. Unlike large aircraft lessors, these Lessors are also resourced with appropriate regional aircraft expertise at all levels from commercial to technical and are structured to handle the relatively smaller value of individual transactions, which are often too small for the wide and narrow body leasing community.
In the case of regional jets, the US market is dominant and this vast market is relatively underserved by leased aircraft as the large North American carriers have different financing options. The large scale of US regional carriers and their preference to keep aircraft for a much longer portion of their economic lives means that capital markets-based finance products, for terms that often exceed 15 years, are the primary source of funds. As such, enhanced equipment trust certificates (EETC) are widely used for regional aircraft. and this means that global regional jet leasing penetration is far lower, around 30%.
However, it should be noted, remarks TrueNoord, that the North American regional jet market is dominated by scope clause compliant aircraft up to 76 seats. Larger over 90 seat regional
equipment is more prevalent outside North America where operating leases are more common. For example, larger E-jets including the E-190 have lease penetration levels similar to those of turboprops.
CONCLUSION
With almost 4,000 current generation large turboprops and regional jets in active service today, the scale of this market, while substantial, remains much smaller than the larger single and twin aisle market. When combined with lower transaction size, this smaller scale renders these asset classes less attractive to large aircraft lessors.
Nevertheless, although smaller than the mainline market, the regional space for current generation and new technology aircraft will not only expand substantially over the coming decades to both meet replacement and traffic growth demand, but the ways in which regional aircraft are deployed will continue to smooth short-term economic fluctuation, says TrueNoord. This flexibility will continue to support value retention and liquidity thereby supporting the leasing and wider finance community active in this niche segment.
22 March 2020