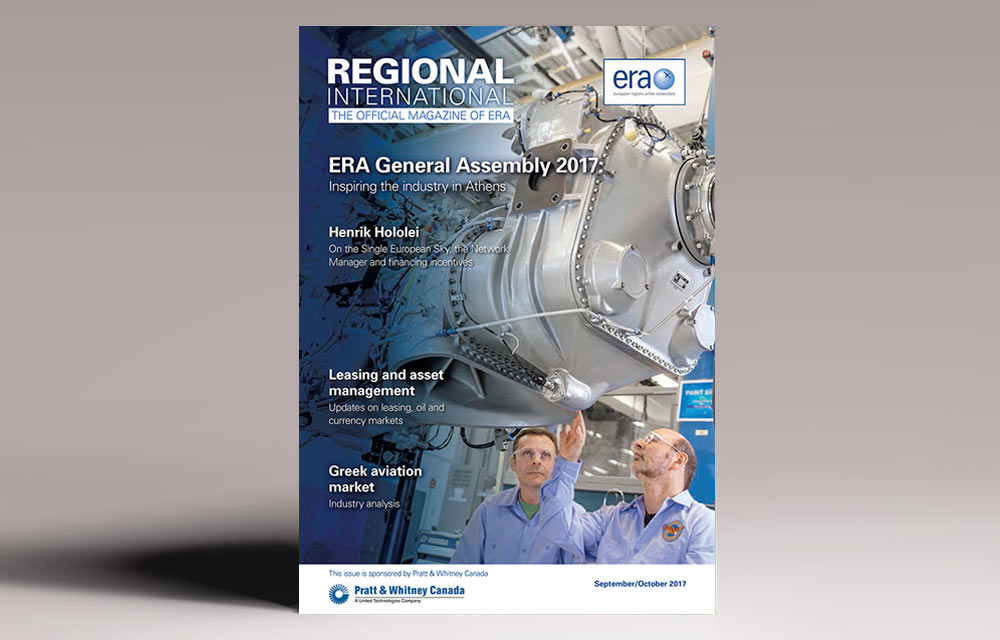 The right fit
Angus von Schoenberg, Chief Investment Officer at TrueNoord, talks to Regional International about how regional jets and turboprops can be used to 'right size' and optimise capacity for airlines.
"The capacity provided primarily by regional jets and, in some cases, turboprops can lead to better outcomes for both passengers and airlines"
While in many short-haul markets, the trend for optimising demand and capacity has been to up-gauge the size of aircraft used on major city pairs, there are many routes where greater size does not optimise profitability or service. On such routes, the capacity provided primarily by regional jets and, in some cases, turboprops can lead to better outcomes for both passengers and airlines. The E-jet family has become an important tool in optimising such capacity, along with Bombardier's CRJ. Embraer calls this 'right sizing'.
There are various examples of right-sizing strategies that can be used:
Typically, right sizing is used to increase frequency on routes previously operated by larger narrow bodies without increasing capacity. This offers customers greater choice which, in turn, enables higher fares and yields for point-to-point passengers. This strategy has in some cases also been partially adopted to complement narrow-body services for off-peak operations.
In cases where demand has dropped, some airlines have introduced smaller aircraft which enable frequency to be maintained. This was common after the 2008 financial crisis.
Alternatively, right sizing can increase frequency to optimise connections at major hubs.
A recent example of the first strategy described above was adopted by Austrian between Frankfurt and Graz. In 2016 the service was operated by 138-seat A319s with 2,129 departures. By the end of 2017, this will have increased to 2,750 departures with 120-seat E195s. According to Embraer, the effect has not only been a load factor increase from 67 per cent to 75 per cent, but also an average fare of US$186 in 2017 versus US$131 for 2016.
Outside Europe, the strategy of complementing narrow bodies is used extensively by Interjet in Mexico with its fleet of SSJ100s operating off-peak services while busier times are flown with A320s.
Changing demand
Fluctuating demand has led to many right sizing examples. For example, until 2012, the New York to Boston shuttle by Delta was operated by A319s, but a year later was flown with E175s. By 2017, demand on some services had increased again so that B717s are now operated alongside E175s. On other routes such as New York to Minneapolis, Delta now operates predominantly with CRJ900s.
However, right sizing aircraft to optimise connections at hub airports has been the most significant application of regional jets as well as turboprops in some cases. At major European hub airports, regional jets have replaced thinner volume routes that were previously operated by single daily services on narrow-body aircraft and today operate multiple daily frequencies. For example, KLM now operates 124 daily narrow-body services and 140 regional jet services from its Amsterdam hub. Munich is Europe's largest regional aircraft hub from which Lufthansa operates both CRJs and a smaller E-jet fleet. Air Nostrum flies a large fleet of CRJs of all sizes from Madrid.
Use of turboprops
Less common is the application of turboprops in right sizing. One example of right sizing with turboprops is Aer Lingus. Prior to introducing its ATR72s, Aer Lingus operated single daily frequencies with A320s to several UK airports. Today, many of these are served with two or three daily flights using ATR72-600s which increase frequency for high yield passengers and provide better connections to transatlantic services.
There are also examples where the Q400 is used in similar ways. In Europe, Air Berlin uses turboprops to feed its long-haul services and in Africa, Ethiopian uses Q400s to feed its long-haul B787 operation. In Canada, Westjet uses Q400s to complement its narrow-body flights.
Hub feed by regionals is set to continue to grow. A recent example sees LO T now increasing its feed to Warsaw through its partner Nordica using CRJ900s flying from the Baltic region.
It is evident that right sizing has become a substantial application of regional aircraft for major European carriers. Many of these services are flown by their subsidiaries
or partner carriers, of which several are ERA members. However, since regional aircraft are not manufactured in the same volumes as narrow bodies, it can be challenging to procure new aircraft to satisfy demand. To that end, regional aircraft lessors can often provide such capacity without tying up additional airline capital.
Regional International – September/October 2017 (click to visit)
5 October 2017