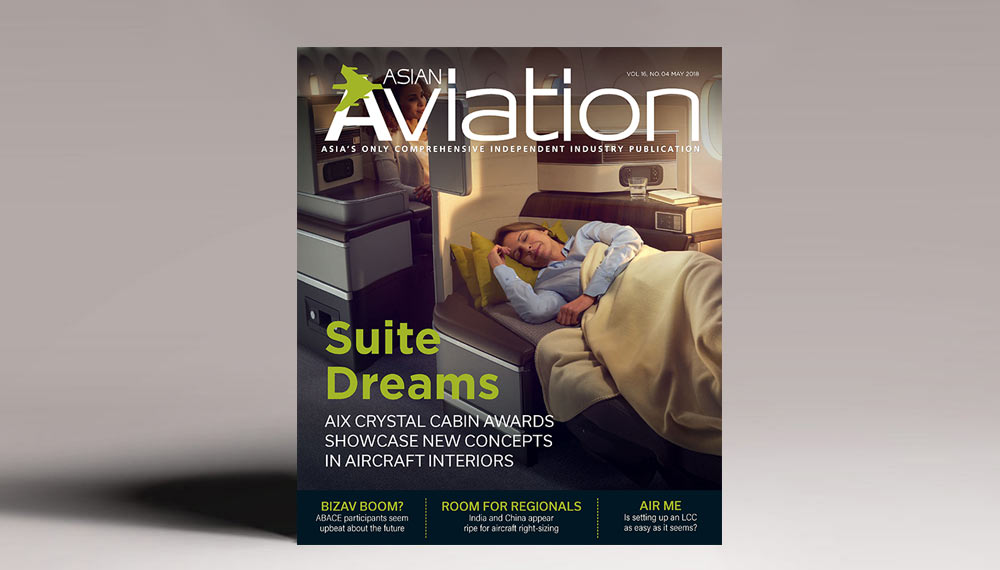 Niche market, niche player
In the world of aircraft leasing, big players like BOC Aviation and CALC dominate the low-cost carrier (LCC) market, but Amsterdam-based TrueNoord has found a special niche by operating in the regional aircraft space. Editor Matt Driskill spoke with TrueNoord's CEO, Anne-Bart Tieleman, about the lessor's work and future plans.
Words like "understated" and "boring" are not typical fare when discussing the aviation business with CEOs, but Tieleman, who founded TrueNoord as GA-Finance in 2002, speaks with typical Dutch understatement when he describes his business as boring.
The company, rechristened as TrueNoord in 2016 (and which stands for True North in a mix of English and Dutch) is on an expansion path and Tieleman made a recent visit to the Asia-Pacific region to scout out business opportunities. And while the company is on a growth trajectory, Tieleman says he remains focussed on being a regional aircraft provider and has no plans to expand into the Boeing or Airbus planes that are being snapped up by LCCs in Asia.
"We are really a niche player, a niche lessor, active in a niche market in the aviation industry," he said in a phone interview from his office in Amsterdam. "You're looking at ATRs, Embraers, Bombardiers…we are really only focusing on regional aircraft and we are planning to grow the portfolio and we have good capital backing to finance our growth."
He pointed to countries like India, China, Thailand, Indonesia and the Philippines as being hot for prospects at the moment but said TrueNoord's focus would be strictly on regional planes. He said the Q400s and ATRs are particularly popular in places like Indonesia, Japan, India and Thailand as well as the Philippines.
"Regional jets are a little bit more, well, in process of being adapted, but are still lagging a bit" in Asia because "mostly the big city pairs are being serviced by LCCs and bigger airlines and are using the Boeing and Airbus planes. I think thinner city pairs might be attractive to service and right-size the aircraft to service these thinner city pair combinations…in Indonesia, with 16,000 islands, aviation is the way to go instead of taking the boat…flying is much faster and the geography and infrastructure are almost perfect. Our interest in Asia is clearly large, we see that as a growth market for the industry generally and for us and hopefully we will be able to close some deals we have in the pipeline there."
But those deals won't mean the company will try to spread its business throughout the region, and instead Tieleman says he is working to "build a diversified portfolio…not only with asset types but with regions". The company may at some point open an office in Asia, adding to the ones it has currently in Amsterdam, London and Dublin, "but we're still relatively small so we want to be careful about taking too much risk in doing business with one airline or one region or one type of aircraft. We will see what happens, but in the next 12 months that might be too soon. We need to first walk before we run."
Europe remains the company's main area of operations and expertise, but Tieleman says recent moves by jurisdictions like Hong Kong will help Asia grow its aircraft leasing businesses. Double taxation treaties however, remain the key sticking point for setting up operations in places like Hong Kong.
Meanwhile, of the two Asian giant aviation markets — India and China — Tieleman says he is most interested in India and is watching airlines like Spicejet and IndiGo, which are benefiting from the country's Regional Connectivity Scheme. China is simply too big for TrueNoord at the moment and that market is dominated by Airbus and Boeing customers and lessors. "There is no real competition for us in China because we don't really do business there. There are lessors active in that market but…we have no role to play there…we're way too small…you need to have a Chinese partner and it's not on our radar screen at the moment."
In India, TrueNoord is "keen to develop business there…and we're absolutely interested in SpiceJet and IndiGo and other airlines looking at regional jets…it's not something to rush into, but we will be there, but step-by-step, in a boring way, trying to build our business", Tieleman explains.
4 May 2018